Welcome To Olympiacos SC Kitchener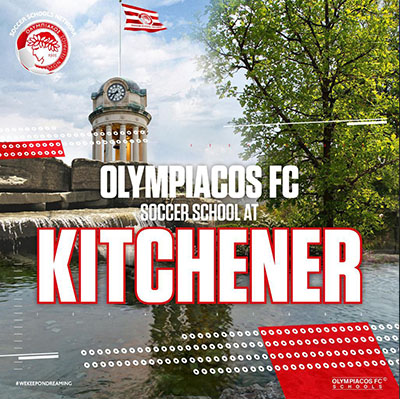 Olympiacos is a world recognized sports club with over 45 League Titles, 28 Cups, 4 Super Cups, and totalling 77 national trophies including 33 UEFA Champions League appearances. Olympiacos is considered one of the top clubs in Europe known for their very well organized academy programs and player development. Olympiacos FC has chosen Olympiacos SC Kitchener for their second Canadian soccer school and player development academy. At Olympiacos SC Kitchener we won't only concentrate on the technical aspects of the development of a player, but also on the ethical aspects including good sportsmanship, and that is what separates recreational from professional soccer players.
We like to provide an opportunity to young players of all ages, not only to develop in a professional environment with professional training, but also the opportunity after their development to a professional career if chosen so through Olympiacos FC or any other professional team interested, including any university or collage scholarship across Canada and the United States. Being a member of the Olympiacos FC family provides the exposure and the attention young players need before they decide to follow a professional career.
A good coach can change the outcome of a game, a great coach can change your life
Our team practices incorporate everything from simple give and go tactics, positioning and awareness to game psychology, game assessment, and mental concentration.